This resources page is here to help you save time as a new mom (or mom to be!), mom blogger, or planner lover. This list of resources only includes products that I like and that I would recommend to friends and family members.
As a quick note, this page includes affiliate links. It means that if you make a purchase through those links, I may receive a small commission at no additional cost to you. Thanks for supporting Mom Succeeds. And you can always read my disclosure for more information.
Here are the sections included on this page. You can scroll down or click on one of the following links to go straight to that section:
With so many products on the market, it's hard to know what exactly you need as a new mom. This list of resources for new moms includes the same or similar products that I have used with my daughters. Plus, products that I wish I had that would have made my life easier.
---
I love the 4-in-1 cribs because they grow with your baby. After buying the crib, you keep adjusting it over the years until it turns into a full-size bed. It comes in different colors too.
These baby bottles were recommended to me to help my little one with her colics. After trying, they worked great! They come in different sizes and now, they even have new colors and designs. You can also get a starter kit
To have peace of mind, I always had a baby monitor before my daughters were born. Even though both of them slept in my bedroom for several weeks after they were born, I still had a baby monitor ready to use. I liked the convenience of knowing that my daughters were fine, while I was taking care of other things such as washing the bottles 🙂
This ointment for diaper rash is amazing. My little one had severe diaper rash and fortunately, her pediatrician recommended this triple paste. It always took care of the diaper rash well and quickly. Plus, it lasts for a while.
This type of activity gym to keeps your baby entertained and learning at the same time. My daughters used their activity gyms many times and even took naps there too. Here is this 5-in-1 activity gym which is very popular too.
A baby backseat mirror is always a must for me. Since the car seat should be rear facing while your baby is still little, having a backseat mirror allowed me to see my baby at any time.
Even if we (moms) don't like to hear it, kids grow fast. Make sure to keep beautiful memories that all of you can enjoy. With this memory book, you can add photos of your baby and write quick notes of those milestones that you want to remember for years to come.
These baby earmuffs are convenient if you are planning to take your baby to a loud event such as a holiday party, sports game, or family reunion. It's adjustable and is available in different colors.
---
inkWell Press has different productivity planners to choose from. My favorite is the Classic weekly planner because of its vertical layout. Its pages are very easy to customize and give you enough room to create different sections. It also includes a monthly calendar, goal setting pages, habit trackers, and even a bill tracker. This year, they introduced their 360 disc planner which you can customize even more!
Quick tip: I use a Happy Planner cover like this one to give extra protection to my planner. It also comes with a pen holder and more space where I put a few more things including my plastic stencil and some stickers.
Plastic Stencils
P
lastic stencils make it easy to organize and decorate your planner at the same time. In the beginning, when I was looking for a stencil, I purchased this one. Even though I have used it many times, it only has a few options since it's only one stencil. That's why I like this set because it includes 20 stencils at a very low price!
Take a closer look at these stencils
Washi Tapes
The great thing about washi tapes is that there are plenty to choose from. It all depends on your taste and needs. I use the washi tape to create sections on my weekly pages to make my days even more productive. That's why I normally use the thin washi tape (6 mm) which is a little bit wider than the ones shown on the pictures (3 mm). I like to keep solid colors and decorative washi tape.
Take a closer look at these washi tapes
Planner Stickers
If you like to use stickers for your planner, the Happy Planner has themed value packs that include a LOT of stickers! Here are some of the value packs that I like:
This value pack includes stickers for different occasions.
Take a look at this value pack
This value pack includes planner stickers for your mom life
This value pack is full of colorful boxes which are very convenient to add side notes, reminders, or to keep a short list together.
Take a look at these colorful boxes
This value pack is full of holiday stickers.
Check out these holiday stickers
---
Are you ready to start a blog? Yay!
The process of starting a blog can be overwhelming. All the products listed are the ones that I have used so far and recommend. This list of blogging resources covers different areas of blogging. From domain registrations to blogging courses to even graphic design tools.
---
Domain Registration
---
GoDaddy
GoDaddy is a well-known domain name registrar. It's actually the first domain registration company I chose and the one that I am still using for the shop. I've been with them for several years and during this time, I've made different changes including redirecting the domain to different sites and the process was always smooth. They're available 24/7 for the whole year!
---
Namecheap
Namecheap is another domain name registrar company. After reading the recommendations from several established bloggers, I decided to give them a try registering this site. Namecheap's customer service is also available 24/7. The couple of times that I contacted their customer service, they were quick to respond and to solve my problems.
---
Web Hosting Service 
---
Bluehost
Bluehost is the web hosting company I use. They have been helping people for more than ten years and provide support 24/7 via phone, email, and live chat.
---
Framework
---
Genesis Framework

The StudioPress Genesis Framework helps you to quickly build a beautiful website after installing a child theme.  Check this article for more information on child themes.
---
Child Theme for Genesis Framework
Hello You Designs has gorgeous pre-built themes to choose from at affordable prices. I am using a theme called Hello Sweets. The theme comes ready to use (which is very helpful!). It's very easy to customize it even for a non-techy person like me. Plus, Jennifer provides outstanding customer service!
---
Blogging Courses & Books
---
How to Blog for Profit
Ruth Soukup is a bestseller author, speaker, and successful business owner.  After years of blogging, she teaches everything needed to create a profitable blog. Her book How to Blog for Profit is absolutely packed with great information.
---
Making Sense of Affiliate Marketing

This is a step-by-step affiliate marketing strategy course that shows you how to increase your affiliate income and make more money blogging. Michelle Shroeder-Gardner is a very successful blogger who currently makes over $100,000 a month!! If your goal is to learn (or learn more) about affiliate marketing, her course is definitely for you.
 Enroll in this Affiliate Marketing course
---
The Essential Habits of 6-Figure Bloggers
This motivational book is great for new bloggers because it is based on interviews that the author conducted with 6-figure bloggers. I like that it's an easy-to-read book with stories, tips, and suggestions from 17 successful bloggers. Most of them are bloggers that I already followed and admired.
Get the 6-Figure Bloggers book
---
Useful Plugins
---
Akismet – Protects your blog from spam
Autoptimize – Automizes your website. I had problems with the CSS and Javascript and as a result, the site was downloading very slow which is not good. Each situation is different but this plugin helped me fix the problem.
Pretty Links – Customizes your affiliate links to make them look, well, pretty.
SumoMe – That's the sidebar that you find on the posts which makes it easier for readers to share your content.
Tinypng.com – It's not a plugin but important to mention. It compresses your jpg and png files.
Ultimate Nofollow – When you do affiliate marketing, you need to let Google know "not to follow" your affiliate link (or other links you choose). This is an easy way to add the needed code those links.
WP Notification Bars – Get your reader's attention by adding a bar at the top of the pages. It's very easy to use and customizable. It's great for those freebies that you want to offer to your audience.
Yoast SEO – It's a must. Seriously! This plugin pretty much analyzes your post and gives you suggestions to improve it.
---
Professional Email Address 
---
G-Suite offers you the opportunity to have a professional email address at a low cost. For example, if you get an email address with Google, you would have something like yourname@google.com. In my case, I set up my email address as hello@momsucceeds.com Even though, it doesn't determine your success, it does look more professional. I only pay $5 per month for the basic plan. But, they also offer a business plan if that fits you better.
 Get a professional email address
---
Tools
---
Canva
Canva is my go-to place to create most of the graphics for this website. It's very easy to use and provides many templates to choose from or to get you started.
---
PicMonkey
PicMonkey is another tool to create graphics. What I like the most is the number of gorgeous fonts that it has. No matter the project, you should be able to find the perfect font for it.
---
Tailwind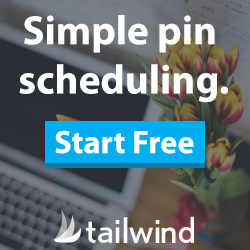 Tailwind is a popular tool used to schedule your pins on Pinterest. However, now, you can use it to schedule your Instagram posts too. Tailwind is easy to learn and use. Work on other important things and let Tailwind post for you.
 Start your FREE trial with Tailwind
---
Grammarly
Let Grammarly do the boring job for you. Grammarly is a great grammar checker that reviews your blog posts and gives you suggestions on how to improve it – of course, grammatically speaking! 😉
---
Shopify
Selling physical and/or digital products is another way to make money. When I decided to open my shop, I was looking for the best option for a non-techie person like me. That's when I found Shopify. When you open an account, you get a free 14-day trial and access to free shop themes too!
 Get your free 14-day trial with Shopify
---